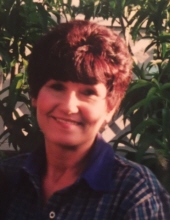 Obituary for Julie Weist
Julie Weist, age 63, died at Mary Greely Medical Center on October 1st, 2017 in Ames, Iowa. The cause was cancer.

Born January 21, 1954 in California she was the daughter of the late Margaret "Maggie" Allard and William "Bill" Hix.

Julie married and started an adventure with the love of her life, Mark Weist, on April 5, 1987. They were married in Lake Tahoe at The Chapel of the Bells and recently renewed their vows on a return visit which meant a lot to her.

Julie was an amazing singer and spent many years singing and making it possible for others to sing at Karaoke and events. She appreciated all styles of music and dancing. She was an avid animal lover and advocate. She had a passion for interior design, home renovation and collecting and repurposing antiques.

Julie is survived by many family members and friends that brightened her life and that she loved dearly: Mark, Tanna, Nick, Shawna, Nic, Kassie, Jake, Magdalene, Emme, Brooke, Nick, Luke, Tanner, Madison, Briana, Grant, Deloris, Roger, Elva, Bob, Patty, Steve, Annette, Nancy, Devetta, Dustin, Lucy, Dee Dee, Michael, Donna, Ima, Randall, Joni, Joe, Sydney, Isaac, Cliff, Cindy, Kevin, Troy, her Karaoke Family (you know who you are), fellow patients and caregivers of the Cancer Treatment Centers of America.

Memorial donations can be made in honor of Julie Weist to Shriners Hospital for Children:
Ways to donate here:

http://shfc.convio.net/site/PageServer?pagename=give_Ways_to_Give
(Or by calling Shriners at 844.739.0849)

Julie did not wish to have a traditional service. We are having an informal gathering on Saturday October 14, 2017 from 3-7PM. For more information please contact her daughter at 515.689.0866 - cain_tanna@yahoo.com .
Events
Memorial Contribution