Obituary for Dr. Clayton Swenson
Dr. Clayton Swenson, a well-known researcher in low temperature physics and a retired Iowa State University Distinguished Professor, died in his home at the Green Hills Retirement Community in Ames, Iowa, on November 1, 2018, shortly before his 95th birthday.
Dr. Swenson was born on November 11, 1923, in Hopkins, Minnesota, near Minneapolis. His father, Nels, who had emigrated from Sweden as an infant, owned Swenson's Meats and Groceries in the town of St. Louis Park, where the family moved in 1924. There his brother Don was born, and both boys worked in the store growing up. Dr. Swenson's mother, Anna, was part of a large, close-knit, German immigrant family. Nearly all of the Swenson family's social life revolved around the numerous relatives on both sides who lived in the area. Although Nels, Anna, and the rest of their generation had not completed high school, many of their children were high achievers with university degrees. Dr. Swenson was no exception – he skipped third grade and completed high school in 1940, aged 16, at the top of his class.
Dr. Swenson often commented on the role of serendipity in his life and the importance of seizing opportunities as they present themselves. The first such opportunity came when his high school counselor mentioned that some Eastern universities were seeking bright students from the Midwest. He applied, and Harvard University offered him a scholarship, a cheap room, and a job waiting tables to cover his board. Dr. Swenson intended to major in chemistry like one of his cousins, but his table-waiting schedule conflicted with the required freshman chemistry classes. He was advised to postpone them until his sophomore year and take physics instead. As Dr. Swenson later explained in a memoir written for his children and grandchildren, "[I] was sidelined into physics by an incompetent advisor, with no regrets."
In 1944, during his last semester at Harvard, Dr. Swenson was asked by one of his former physics professors to join a "secret project" in the West – the development of a nuclear bomb at the Los Alamos site of the Manhattan Project. There, for the next 20 months, he studied velocities of explosive waves. The night before the top-secret Trinity test, he and a group of young colleagues sneaked out to the desert and witnessed the massive pre-dawn explosion from a hill north of the test site.
Dr. Swenson returned to Harvard as a graduate student in January 1946. Again, serendipity intervened when a former professor submitted his name for a fellowship to Oxford University in England. Although he had never intended to study abroad, Dr. Swenson was accepted into the doctoral program at Oxford (Jesus College), working at the Clarendon Laboratory under Professor F. E. Simon (later Sir Francis Simon) who was a leader in the relatively new field of low temperature physics. It was there that he met Heather Gell who was Professor Simon's secretary. After earning his doctoral degree (D.Phil), he persuaded Heather to marry him and move to the United States. They lived in Cambridge, Massachusetts, where Dr. Swenson was an instructor at Harvard University, helping to set up liquid helium research facilities. He then moved to MIT's Cryogenic Engineering Laboratory where he studied the properties of solids at high pressures and low temperatures.
Dr. Swenson began his 52-year tenure at the Iowa State College of Agricultural and Mechanic Arts, now Iowa State University (ISU), in 1955, when he accepted a faculty position in the area of low temperature physics. Over the following decades, he and his graduate students conducted superconductivity research at high pressures, studying pressure-volume-temperature relations for elementary materials. As he explained in his scientific history, "I enjoyed working with my hands, building and repairing equipment, either personally or through these very capable [graduate] students; much of the apparatus we used was 'home made,' either original or a significant modification of other designs." He derived great satisfaction from the success of his Ph.D. (16) and M.S. (11) students, many of whom he kept in contact with over the decades. One of these students, Dr. Robert Fugate, went on to develop a highly acclaimed technique to compensate for atmospheric distortion of astronomical observations using laser beacon adaptive optics. Recalling his graduate work with Dr. Swenson, Dr. Fugate wrote, " He was somewhat of a task master, but his wisdom and insistence on building from the ground up has been a reward and inspiration my entire career - he really did change my life." Dr. Swenson was promoted to associate professor in 1958 and professor in 1960, and chaired the Physics Department from 1976-84. He headed the committee that developed the requirements and design for the construction of Zaffarano Hall, an addition to the Physics Building, which was completed in 1967.
Dr. Swenson enjoyed traveling and used his sabbaticals as opportunities to expand his scientific career and share the world with his family. He spent two sabbatical years abroad, one at the CSIRO National Standards Laboratory in Sydney, Australia (1964 – 65), where the thermometry phase of his career began, and the other near London at the National Physical Laboratory (1974 – 75). He also obtained a faculty improvement leave to spend the fall semester of 1984 in Los Alamos studying shock wave high pressure physics. Dr. Swenson retired from ISU in 1987 and continued to pursue research at the Ames Lab until 2004, publishing 22 post-retirement papers. During his retirement, he especially enjoyed working with undergraduates, helping them design and conduct experiments.
Dr. Swenson was an American Physical Society Fellow and a member of Sigma XI, the international honor society for research scientists and engineers. In April 2018, The Sigma Xi Chapter of Iowa State University recognized him as their first Diamond Anniversary member, following 75 years of continuous membership. Dr. Swenson was also a member of the Consultative Committee on Thermometry of the International Bureau of Weights and Measures (CCT) from 1968-1990 and regularly attended CCT conferences in Paris. Among his numerous publications, a chapter entitled "Physics at High Pressures," written for an ongoing series of solid state physics books in 1960, was particularly influential in the field. In his later years, Dr. Swenson was a proud recipient of the St. Louis Park High School Distinguished Alumnus Award. He drove to the ceremony at the age of 88 and delivered an address to the students, using his life story to encourage them to take advantage of unexpected opportunities.
Dr. Swenson enjoyed family life, photography, home projects, computers, travel, and philanthropy. He instilled a love of the outdoors in his three children during camping vacations in the American West, developed his own black-and-white photos, and assembled a well-catalogued collection of photo albums that have become family heirlooms. Dr. Swenson developed and maintained lifelong connections with friends, former colleagues, and extended family members around the world, remaining especially close to his brother Don's family and to Heather's family in England (the Gells). All were recipients of his annual Christmas letter, which he wrote throughout his life into his early 90s. Once his children were grown, Dr. Swenson presided over regular family reunions, bringing together the members of his blended family from the east and west coasts to enjoy time with each other in or near a national park. Christmas was another important gathering time for the family with treasured traditions such as complex jigsaw puzzles, cutthroat group solitaire games, and amazing assortments of homemade cookies.
After Heather's death, Dr. Swenson's children were delighted when he and Dr. Ruth Wildman decided to marry in 1980. They traveled extensively during their almost four decades together, exploring all seven continents. The two of them actively supported many local, national, and international causes and together received the Outstanding Family Philanthropists Award from the Story County Alliance for Philanthropy in 2007. Dr. Swenson served on the board of the Emergency Residence Project from 2000-2007, including a three-year term as president. He also was elected to the Green Hills Retirement Community's Board of Directors from 2009-2013 and was a longtime member of St. John's by the Campus Episcopal Church.
Dr. Swenson was preceded in death by his first wife, Heather Swenson, in 1977, and his second wife, Dr. Ruth W. Swenson, in March 2018. He is survived by his daughters, Anna Swenson (John Kunkel) of Herndon, Virginia, and Wendy Swenson and her children, Aaron and Heather, of San Rafael, California; by his son Paul Swenson (Andrea) of Piedmont, California, and their children, Lucy and Sam; and by his stepson Randall Wildman (Kelly) of Corvallis, Oregon, and stepdaughter-in-law Lourdes Wildman of Summerville, South Carolina.
A memorial service will be held on Saturday, December 8, 11:00 a.m., at St. John's Episcopal Church, 2338 Lincoln Way, Ames, Iowa. After the service, all are invited to the parish hall of St. John's for refreshments and to greet family.

In lieu of flowers, the family suggests donations be made to the Youth and Shelter Services Foundation or the Emergency Residence Project-Story County Community Foundation.
To send flowers or a remembrance gift to the family of Dr. Clayton Swenson, please visit our Tribute Store.
Previous Events
Celebration of Life
St. John's Episcopal Church
2338 Lincoln Way
Ames, IA 50014
Cemetery Details
Location
Iowa State University
Pammel Drive
Ames, Ia 50014
Memorial Contribution
Emergency Residence Project - Story County Community Foundation
To learn more about the Emergency Residence Project visit - http://www.amesshelter.org/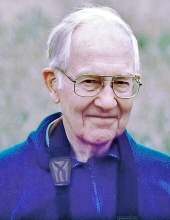 Thank you for sharing your
memory of Dr. Clayton
Provide comfort by sending fresh
flowers from our local florist.
No thanks, please don't show me this again.