Obituary for Warren B. Kuhn
WARREN BOEHM KUHN
Obituary

Warren B. Kuhn was born February 12, 1924 in Jersey City, NJ. His father, Oscar Henry Kuhn was a career police officer. His mother, Amelia Elizabeth (Boehm) was a devoted mother and homemaker.

Warren Kuhn's guiding vision as a university librarian placed the Library and its services as the pivotal core of a University, its purpose to create the most accessible routes to knowledge locally and worldwide, housed in environmentally controlled and reader-oriented space and with staff constantly evolving a roster of services to support every aspect of teaching and research. During his tenure Iowa State greatly expanded its physical building with two major additions, several branch libraries, a new veterinary medical library, a new design library and broadened its collections to more than a million and a half volumes; he instituted new departments of Special Collections, University Archives, Government Publications, a Map Room, Media and Microform facilities, computer rooms and individual faculty and group study facilities. The Library's first bibliographers were added and increased and diversified staff numbers as well as developing larger budgets for further enhancements. He joined with his colleagues at Iowa's state universities to form the first intra-university cooperative step to employ a shared computer advisory officer for all three libraries, headquartered at Iowa State.

The latest Library Addition (1984) architecturally incorporated facilities specifically designed for extensive future computerization, including movable office space and flooring for maximum flexibility within technical services and pre­installed conduits for a future electronic catalog; these innovations simplified the installation of today's e-Library system at the University. The Library's first electronic catalog antecedent to the eLibrary, dubbed Scholar was unveiled under his administration

Personally familiar with the field of rare books, he was able to procure at minor cost the Library's first "incunabula" (work published pre-15th century). In Mexico in 1987 he guided the Library's acquisition of the personal papers of Nobel Laureate, Dr. Norman Borlaug, founder of the "Green Revolution", a program responsible for improving food production in impoverished world areas.

His interest in film led him to work with Ott Coelln, the documentary film pioneer, and Coellns' gift of the "Why We Fight" WWII film series and other historic films initiated ISU's American Archives of the Factual Film, which now regularly acts as a unique source for film, TV and other motion picture needs. Kuhn was also convinced that much future library research would lie with manuscripts of individuals noteworthy in sciences, humanities and social organizations and emphasized their acquisition. Among his fondest personal rewards was seeing several dozen of his Library staff build upon their ISU experience by their later appointment as deans, directors, and senior administrators at other major university libraries. To Warren Kuhn, individual staff development was of primary importance.

Warren Kuhn's early schooling was in public schools, graduating from Jersey City's Dickinson High School. He was editor of the high school newspaper, advisor to the student government, officer of many school clubs, active in school dramatics and a member of the swimming team. The Jersey City American Legion awarded him their Honor Award for Citizenship in 1942. Following graduation, he was employed in war production at Western Electric Industries, and enrolled at New York University.

In May 1943 he entered the U.S. Army, assigned to the Ordnance Corps, Aberdeen Proving Ground, MD. After basic training, and non-commissioned officers school, he became instructor at the Ordnance Depot & Supply School and served as troop training sergeant in the field. Promoted to Platoon Sergeant in 1944, then to Officer Candidate School, where he was commissioned 2nd Lieutenant on May 12, 1945 and reassigned as a company-training officer.

In August 1945 he was posted to the 3012th Ordnance Base Depot Company, Red River Ordnance Depot, Texarkana, TX. This unit just returned from the war in Europe was to be among the first Ordnance units for the pending invasion of Japan, but at Japan's surrender in early September it was deactivated, and he became Chief, Training and Materials Branch of the RROD Ordnance Center, with secondary duty as General Courts Martial Officer. In 1946 he returned to Aberdeen Proving Ground as Assistant Chief, Training Methods Branch. Following WWII between wars he served in the Army Organized Reserve, until recalled to active duty in 1950 for the Korean War.

In the Korean conflict, he served first at White Sands Proving Ground, New Mexico, where testing had begun on the Army's captured V-2 rockets and the Army's first guided missile battalion was being formed; there he was promoted to 1st Lieutenant. He embarked for overseas duty with the Far East Command's Eighth U.S. Army, Korea, serving at I Corps Advance Headquarters, Uijongbu, on the border of North & South Korea. His duties involved him with all units along the Corps front, and as liaison with the Korean Army; he was at Panmunjom, site of the Korean truce negotiations. He was awarded the Bronze Star. He was released from active duty in 1952.

Kuhn held a B.A. from New York University and an M.L.S. with honors from Columbia University. His library service began in the Reference Department, New York Public Library, then successively to the University of New Mexico; Assistant Director, Arizona State University; Assistant University Librarian, Princeton University; Assistant Director of Libraries & Director of the Meyer Memorial Library, Stanford University and finally to Iowa State University, first as Director and then Dean of Library Services. He was elected to the ISU Student Honorary Society of the Cardinal Key and the national honorary Phi Kappa Phi. He retired in 1989 as Dean Emeritus of Library Services.

Kuhn was very active in national, regional and state library professional affairs. He served as member of the American Library Association Governing Council, Chair of its ALA Yearbook Advisory Board, Chair of ALA's Publishing Board and Editorial Committee, and member of the New York World's Fair Advisory Committee. He was elected to the Board of Directors of the Association of Research Libraries; Co-Chair of the ALA/American Association of Publishers Joint Committee, and the Online Computer Library Center Advisory Committee. He was President of the Midwest Regional Library Network and on its Board of Directors; President and Chairman of the Board of the Universal Serials & Book Exchange, Washington, DC; and member of the Board of Trustees of the Bibliographical Center For Research, Denver, CO., and Board of Directors of the Center for Research Libraries, Chicago, IL.

He was appointed by Iowa Governor Robert Ray to the Governor's Advisory Council on Library Services & was moderator for the Pre-White House Conference on Libraries and Information Services. He was on the Board of Directors, Iowa Library Association, and a member of the Library Task Force of the National Committee on the Future of Drake University. He was a member of the Dean's Council at ISU, and at retirement, the Board of Directors for the ISU Retirees.

He served as professional consultant for the Universities of Colorado, Kansas, Montana, San Francisco State and Wisconsin, and with the library accrediting arm of the North Central Accreditation Association.

At Princeton he was responsible for creation of the Julian Street Library, their first separate undergraduate library and editor of its major bibliography, published by R.R. Bowker in 1965. While at Princeton, he also taught classes in University Library Administration at Drexel Graduate Library School, Philadelphia, PA. He published widely in professional journals and in 1987 was invited to teach and lecture in the People's Republic of China.

During his earlier years he scripted and performed in radio dramas in New York City, and created a series of comic book heroes, including the first skin-diving comic, Surf Hunter. His writing covered almost all media including children's publications, pulp and comic magazines, and general popular magazines. He was a lifelong collector of rare miniature books, and rare first editions of Charles Dickens, Longfellow and G.A. Henty, the world's most popular 19th century author of boy's novels; all these have been gifted to the Iowa State University Library.

His son, Robert Warren Kuhn, of Ames, survives him. He was preceded in death by his long-time associate, Margaret Mae Gross.

Memorials may be made to the Warren B. Kuhn Book Endowment, created by the ISU Class of 1934.

No services are planned at this time.

© 2018 Soderstrum Reimers Inc.
To send flowers or a remembrance gift to the family of Warren B. Kuhn, please visit our Tribute Store.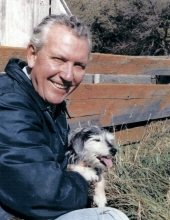 Thank you for sharing your
memory of Warren
Provide comfort by sending fresh
flowers from our local florist.
No thanks, please don't show me this again.