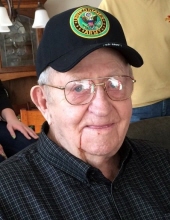 Obituary for Emmett Olson
Emmett A. Olson, 98, died March 15, 2018 in Story City, Iowa surrounded by family. A celebration of life service will be held at St. Paul's Lutheran Church Southwest of Jewell, Iowa at 10:30 a.m. on Tuesday, March 20, 2018 with visitation from 5:00 p.m.to 7:00 p.m. on Monday, March 19, 2018, at the Households of Bethany, Story City, Iowa.

Emmett was born on December 31, 1919 in his parents' home in rural Jewell, Iowa. After attending a one room country schoolhouse he graduated from Randall, Iowa High School. He started farming with his father Joseph Olson during the depression. He then served in World War II as a Staff Sergeant in the Army Air Force. Upon his discharge in late 1945 he resumed farming. Shortly after returning from the service he was recruited to serve as the church organist at St. Paul's Lutheran Church and he served in that capacity for over sixty years in countless services, weddings and funerals. Later he was requested to assist at Our Savior's Lutheran Church in Stanhope, Iowa and he served in that capacity for over forty years, thus doing double duty every Sunday for those years. This was Emmett's "Ministry of Music."

Emmett was a gentle, hard working, and devoted father, husband, and friend who lived a good life but also faced some difficult times. He lost three wives and then a very special friend but never gave up on life. He knew what was important in life and one should never give up in the face of adversity.

Emmett is survived by his daughter Lois (Rick) Slobe of Ames, Iowa and his son Eugene (Jean) Olson of Des Moines, Iowa as well as two sisters, Delores Larson of Randall, Iowa and JoAnn (Virgil) Teigland of Klamath Falls, Oregon and grandchildren Julie Olson of West Des Moines, Iowa, Jackie (Steve) Emery of Miramar, Florida, Dr. Jeff (Dr. Kim) Olson of St. Paul, Minnesota, Eric (Joanne) Bibler of Johnston, Iowa and ten great grandchildren. Emmett was preceded in death by his parents, his sister Betty Ruth Rorem, three wives, Elaine, Dorothy, and Norma and his special friend Mildred Pitzer of Mesa, Arizona. The family suggests that in lieu of flowers, consideration be given to a memorial to St. Paul's Lutheran Church, Households of Bethany, or the Story City Post of the American Legion.

Soderstrum Funeral Home in Story City is assisting the family with arrangements. Online condolences and photos can be shared at www.soderstrumfuneralhome.com. ©2018 Soderstrum Reimers Inc.
Previous Events
Visitation
Bethany Manor Chapel
212 Lafayette Avenue
Story City, Iowa 50248
Celebration of Life
St. Paul Lutheran Church
3726 Nelson Ave.
Jewell, Iowa 50130
Cemetery Details
Location
St. Paul Church Cemetery
3726 Nelson Ave.
Jewell, Iowa 50130
Memorial Contribution
Story City American Legion
301 Washington St (41.17 mi) Story City, Iowa 50248