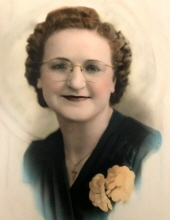 Obituary for Anna W. Petrich
Anna W. Petrich, 99, of Story City, IA and formerly of Chicago, IL passed away Tuesday, 1 May 2018, at Bethany Manor. Visitation will begin at 3:00 p.m., with a memorial service at 5:00 p.m., followed by the Rosary, on Monday, 7 May at Bethany Manor, 212 Lafayette Ave, Story City, IA 50248. Burial will be preceded by a brief graveside service on Thursday, 10 May at Mount Carmel Cemetery in Frontenac, KS.

Anna was born on 10 May 1918 and was the eldest of the three daughters of Jernej O'Korn and Anna O'Korn (née Omahne), who arrived separately to the States, from what is now Slovenia, in the years leading up to World War I. She was born in a small, four-room house in the coal-mining community of Camp 50, KS, about two miles west of Arma, KS. Her father worked with Belgians, Italians, Austrians, and other immigrants in the coal mines. Her mother raised the family, took as many jobs as necessary, and actively supported the rights of workers and the growth of unions. Anna developed a life-long dedication to assisting the less fortunate and a commitment to respecting others.

During the Depression, she moved to Chicago to find employment and became engaged in the war effort. She worked for the Red Cross and at the Ford Plant on the southwest side, where she was a "Rosie-the-Riveter" helping to assemble B-29s, 9 hours a day, 6 days a week. In her spare time, she crocheted gloves designed to warm the trigger fingers of the aircraft gunners.

After the war, she met Jacob (Jack) Petrich in the Slovenian community centered near Cermak and Damen. They married on 23 April 1949 at St. Stephen's Catholic Church. She is an outstanding model of dedication, sacrifice, loyalty, and hard work. Although she only finished the eighth grade, she believed in the liberating power of education and encouraged it enthusiastically. She was an exemplary wife and mother.

She prayed the rosary and attended mass as often as she could. She loved polkas and gardens and flowers.

She and her husband moved to Ames, IA in 2004.

She is immediately survived by: one son, Jacob, and his partner, Suzanne Chester; two grandchildren, Roman and Camille; and several nephews and nieces living in the Chicago area and Slovenia.

In lieu of flowers, memorial donations may be sent to The Sisters of the Alvernia Manor Retirement Community, 13950 Main Street, Lemont, IL, 60439; phone (630) 257-7721.
Previous Events
Visitation
Bethany Manor Chapel
212 Lafayette Avenue
Story City, Iowa 50248
Memorial Service
Bethany Manor Chapel
212 Lafayette Avenue
Story City, Iowa 50248
Rosary to follow the Memorial Service
Graveside Service
Mount Carmel Cemetery
E. McKay Street
Frontenac, Kansas 66763
Time approximate. More exact time to follow.