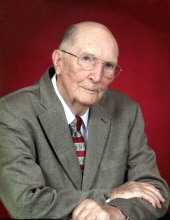 Obituary for Harvey Ellsworth Thompson
Harvey E. Thompson, 97, passed away peacefully on Saturday, July 21th, 2018. He was born in Valders, WI on October 30, 1920, the oldest child of Reuel and Esther (Harvey) Thompson. He graduated from Valders High School, and attended the University of Wisconsin, Madison where he earned a certificate in the Farm Short Course, a BS, MS and PhD in Agronomy and Economic Entomology. He was a veteran of WWII.
Harvey joined the faculty at Iowa State University as a Professor of Agronomy & Extension Agronomist in 1950. He was chairman of the Agronomy Extension Group when he retired in 1983. His work took him down every highway and back road in the State of Iowa. He was a member of several professional societies. He served as Executive Director of Associated Hybrid Producers from 1983-87.
Harvey married Alice WInborn in 1953. They had 2 daughters. They lived in Ames until 1974, when they moved to a farm SE of town. There he raised American Quarter Horses, and farmed following the advice he had given other Iowa farmers for many years. He and Alice moved to Green Hills Retirement Community in 1994.
Over the years, he served on and was chairman of Iowa State University Lutheran Church Foundation Board, St. Andrew's Lutheran Church Congregation and Green Hills Retirement Community Board of Directors. In his spare time, he enjoyed woodworking, trap and skeet shooting, raising horses, camping all over the country, bowling and reading.
Harvey is survived by Alice, his wife of 64 years, daughters, Bonnie Snovelle of Boone, Betty (Clark) Grinde of Story City; grandchildren, Zachery and Samantha Snovelle, Emma and John Grinde and sister, Joyce Loritz. He was preceded in death by his parents, sisters, Dorothy Nicoloff, Judy Vallesky and son-in-law James Snovelle.
Visitation will be Wednesday, July 25th from 5-7pm at St. Andrew's Lutheran Church, 209 Colorado Ave, Ames. The Funeral service will be Thursday, July 26th at 2pm at St. Andrew's.
In lieu of flowers, memorials may be directed to Iowa State University Lutheran Church, St. Andrew's Lutheran Church or University of Wisconsin Foundation for the Henry Ahlgren Scholarship Fund in Agronomy.
Previous Events
Visitation
St. Andrew's Lutheran Church
209 Colorado Avenue
Ames, Iowa 50014
Memorial Service
St. Andrew's Lutheran Church
209 Colorado Avenue
Ames, Iowa 50014